Osaka is a vibrant metropolis located on the island of Honshu in Japan. The city is well known for its contemporary skyline, 16th century castle, an abundance of cherry, plum and peach blossom trees, delicious street food and lively nightlife. As with any city, it is always good to plan ahead to get the best from your trip, so with that in mind, here are a few of our must see places in Osaka and its nearby cities.
Osaka Attractions: Shitennō-ji
To understand the city and its inhabitants better, your first stop should be Shitennō-ji, the oldest officially administered Buddhist Temple in the whole of Japan. Legend has it that the Shitennō were four heavenly kings and the temple was built in their honor to allow the Japanese people to attain a higher level of consciousness or civilization. It's a fascinating place to visit with a five storey pagoda, the Golden Pavilion and several ornate entrance gates, it is also less than 10 minutes' walk from major train and subway stations.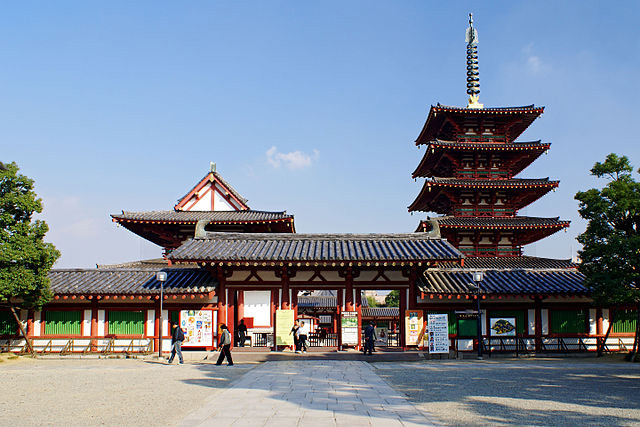 Osaka Attractions: Osaka Castle and Park
One of the city's most famous landmarks, the castle is striking to view and hides an intriguing history behind its walls. Inside the park you will find Osaka Castle Hall, baseball fields, an open air concert hall and Osaka Castle Keep Tower which was designed to keep out attackers. One of the main draws of the park is the abundance of cherry blossom trees which can be seen in full bloom each year, it transforms the castle and park into a land of Japanese fairy tales and becomes a photographer's dream destination.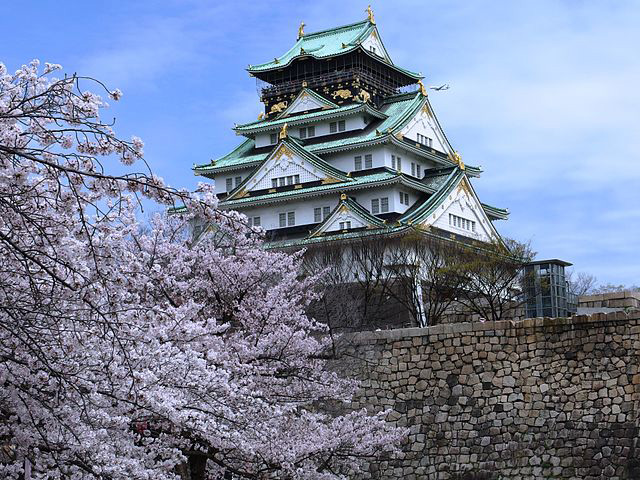 Osaka Attractions: Tsutenkaku
Tsutenkaku is a modern symbol of Osaka which has appeared in movies and TV shows around the world. Looking similar to the Eiffel Tower, it was constructed in 1912 as a monument for a "New World" or Shin-Sekai. There is an observation platform located on the 5th floor which offers a unique panorama of the colorful street signs, anime sculptures and eclectic architecture of the Osaka skyline. If you are feeling superstitious visit Billiken, a Japanese deity on the platform and rub the soles of his feet for extra good luck!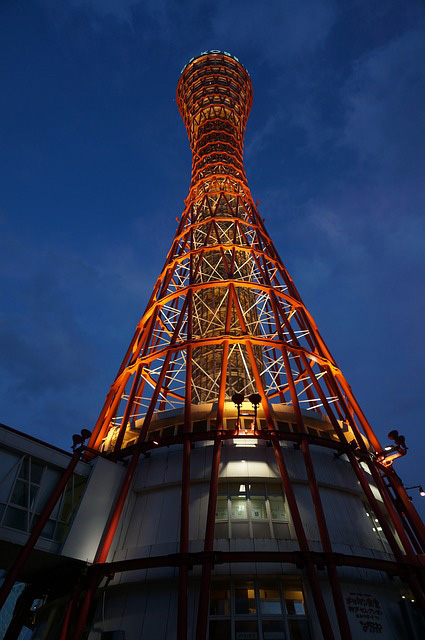 Osaka Attractions: Osaka Aquarium – Kaiyukan
One of the most popular attractions in Osaka, the aquarium, is the ideal place for families and lovers of marine life to visit. In addition to the wide variety of fish and sea mammals you can admire while walking through the Aqua Gate zone, you will also be able to visit Japan Forest and Pacific Ocean zones to see whale sharks up close. There are over 620 different species to learn about, all of which are native to the Pacific Rim area.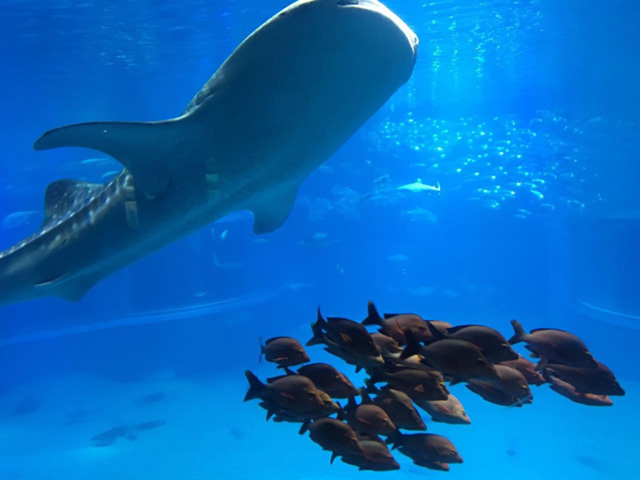 Osaka Attractions: Universal Studios Japan
Universal Studios Japan brings Hollywood to Osaka, with white knuckle rides and many family favorites including the Wizarding World of Harry Potter, Snoopy Studios, Hello Kitty, the Amazing Adventures of Spiderman, Space Fantasy the ride and Jurassic Park. You can easily spend several days exploring the studios without getting bored and with plenty of gift shops, restaurants and cafes on site you have everything you need for a fun filled experience.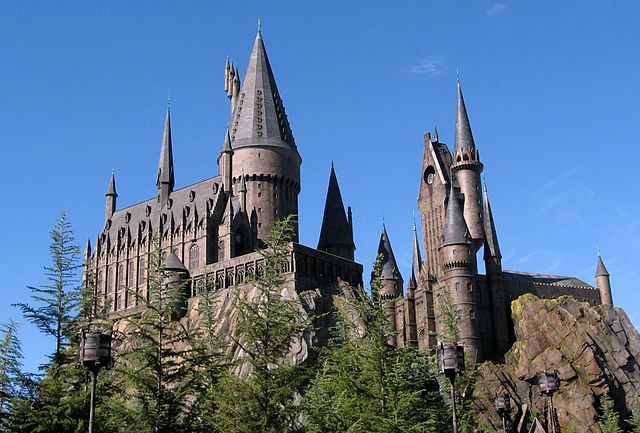 Osaka Attractions: National Museum of Art Osaka – NMAO
If you prefer to discover the Osaka art scene, head to the subterranean National Museum of Art located approximately 5 minutes' walk from Higobashi Station in the city center. This ever changing gallery museum showcases popular artists from Cezanne to Kuniyoshi plus it hosts seasonal exhibits which range from The Great Terracotta Army of China's First Emperor to Movement and Space exhibitions. Keep an eye on their website to learn of upcoming exhibits and installations prior to your visit.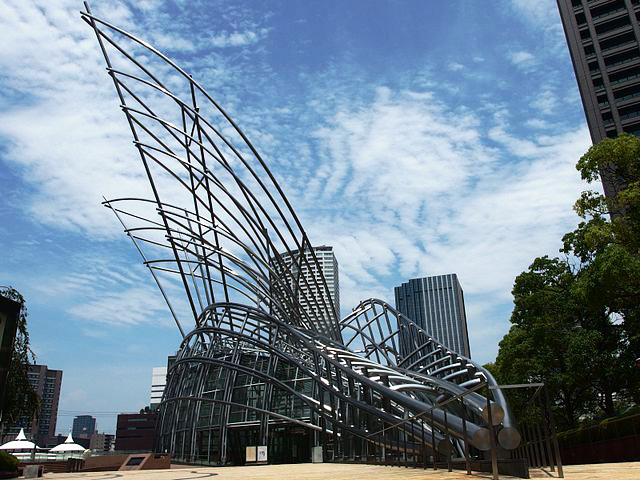 Osaka Attractions: Osaka Science Museum
Located above the National Museum of Art is the Osaka Science Museum, ideal if you wish to explore both. There are four floors showcasing a plethora of interactive science exhibits which total approximately 200 items. Each floor focuses on a different theme, there is a planetarium with the 7th largest dome in the world, and there are live science shows held each day. The only downside is that all of the information is given in Japanese but if you have prior scientific knowledge or a translation app on your smartphone you may just manage it!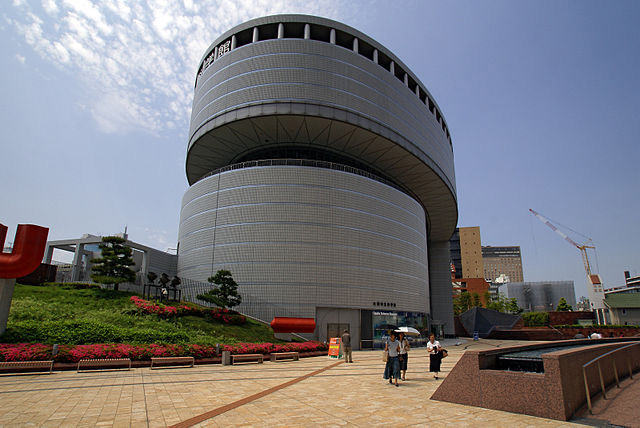 Osaka Attractions: Tennoji Park
Tennoji Park is to Osaka as Hyde Park is to London or Central Park is to New York, it's an oasis of peace and tranquillity in an otherwise bustling city. The botanical gardens are a sight to behold with various floral blooms laid out uniformly in this perfectly sculpted park. You can view sculptures, sit beneath shady trees watching the world go by, or explore the many other amenities which the park has to offer such as the Greenhouse, the Museum of Art or Tennoji Zoo.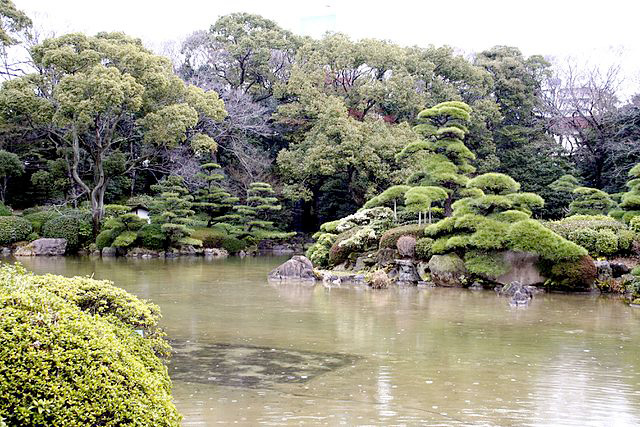 Osaka Attractions: Dotonbori
Dotonbori is the hub of Osaka, located along the south bank of the canal of the same name, the area is packed with restaurants and amusements – it's where locals come to eat, drink and be merry. Neon illuminated signs can be seen at every turn as the bright lights reflect onto the still waters of the canal. There are shops, temples and a wonderful party atmosphere which all visitors to the city should experience at least once during their stay.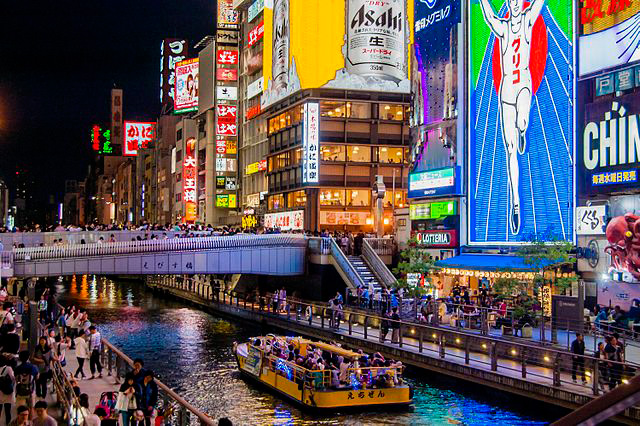 Osaka Attractions: Shinsaibashi
If you seek a spot of retail therapy, then Shinsaibashi is the place for you. Close to the lively, eclectic neon lit Dotonbori, this is Osaka's principal shopping area. There is a covered street and plenty of unique shops and luxury brand retailers such as Cartier, Dior and Dolce and Gabbana which will undoubtedly tempt the yen from your wallet!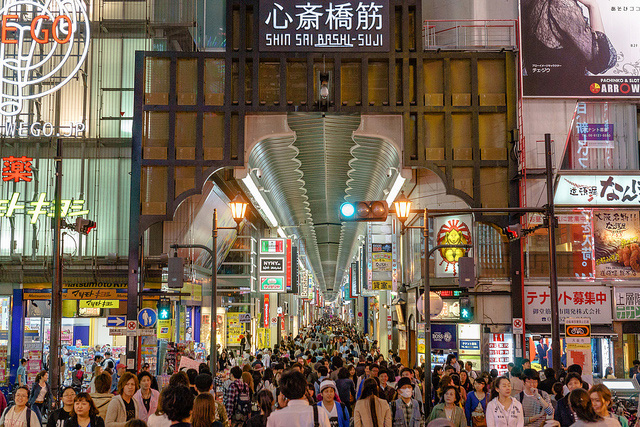 Osaka Attractions: Kuchu Teien Observatory
The floating garden observatory on the 40th floor of Kuchu Teien Tenbodai is a unique place to enjoy the city skyline and its magnificent views from a garden rooftop in the sky. The architecture resembles a modern day glistening Lego structure, it's a fabulous place to gain more of an insight into Japanese modern day architecture as you admire the reflections of the clouds in the glass tower façade.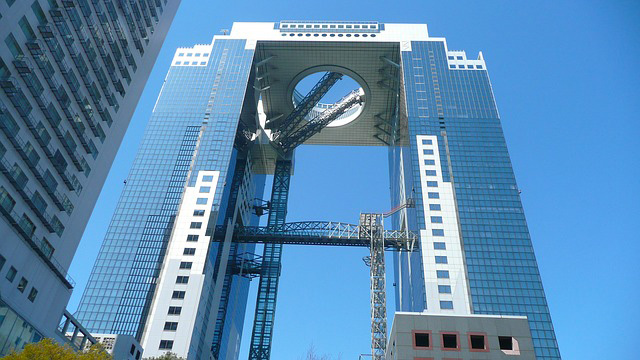 Osaka Attractions: Osaka Museum of Housing and Living
This is a really popular Osaka attraction located in north east Kita district. The museum has recreated streets and buildings to show life in Osaka during the Edo period. Visitors are welcome to learn all about how the city has changed over the centuries and experience different ways of Japanese life using interactive exhibits. If you want step back in time into ancient Osaka then this is the place to come to.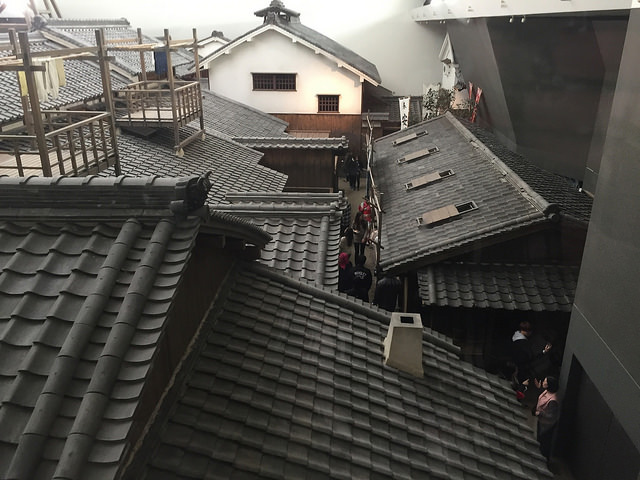 Osaka Attractions: Take a Sushi cooking class in Osaka
No trip to Japan would be complete without taking a cooking class on how to make the perfect sushi. Osaka, like many other Japanese cities offers visitors the opportunity to do just that. This is a wonderful experience if you are a solo traveller and a great way to meet like-minded people while learning how to make the best sushi ever from the masters!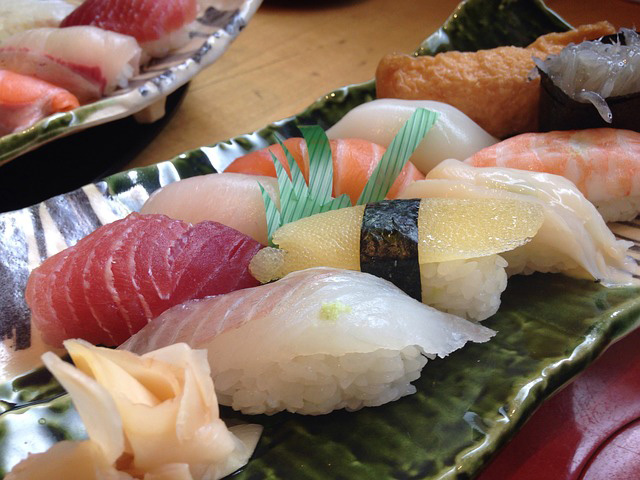 Day Trip around Osaka City
Kyoto – Golden Pavilion and Gion
Kyoto is less than one hour from Osaka and offers some of the best shrines, markets and scenery that Japan has to offer. There are over 1000 Buddhist temples within the city itself and it is here you will find the magnificent Golden Pavilion. Whether you visit in summer when the leaves are lush and green or when there is a backdrop of snow-capped mountains during winter, nothing can prepare you for the elegant beauty of this structure. During your visit to Kyoto be sure to discover the ancient wooden buildings and teahouses of Gion. This area is the most famous of all the Geisha districts in Japan, see the elegant painted women shuffling through the streets in their exquisitely patterned kimonos and be transported back to Japanese days of old.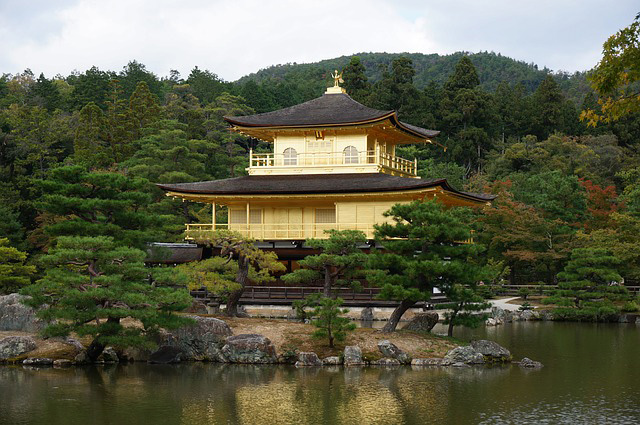 Nara – Todai-ji Temple and Nara Park

Also located less than an hour from Osaka is Nara. Nara used to be Japan's first permanent capital and as such it is full of historic treasures and is home to some of the country's oldest temples and shrines. Visit Todai-ji temple, the landmark of Nara and while visiting Todai-ji, stroll along Nara park to enjoy the beauty of hundreds of freely roaming deers.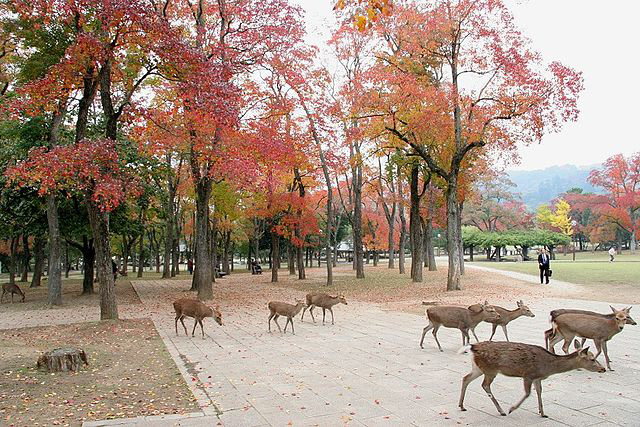 Japan may be confusing on your first visit, you also may feel like you are "lost in translation" with many of the signs and information solely written in Japanese. It may be worth downloading an app prior to your visit or taking a guide book with you if you plan on travelling further afield. If you manage to make it past the language barrier, this is a country ripe for exploration with hidden depths and unimaginable beauty.