Medan is a great urban base for exploring some of the many nearby appealing tourist destinations. A city of authentic Indonesian character, Medan is also a real mix of cultural influences with Dutch-colonial charm apparent in some of it's architecture and a population that includes Indians, Chinese and Indonesians of different ethnic origin.
Here are the top Medan attractions if you decide to visit Medan:
If you spend any time in the city of Medan itself, be sure to visit the Mosque, Mesjid Raya. Commissioned in 1906 by the sultan, this mosque is impressive on a grand scale. Its design resembles styles from Spain, India and the Middle East.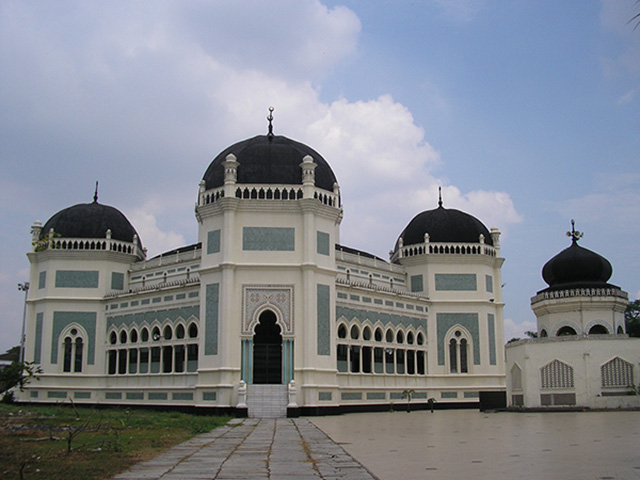 Also in Medan of note is the immense Maimun Palace. Built by the Sultan of Deli, the palace's main room is open to public and you can step back in time here with a collection of traditional Malay costumes.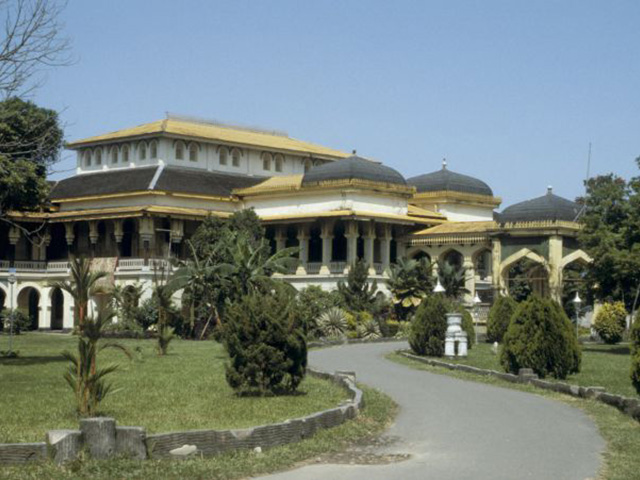 Another attraction worth visiting in Medan is the Rahmat International Wildlife Museum and Gallery. This gallery feature more than a hundred species of preserved animals (taxidermy).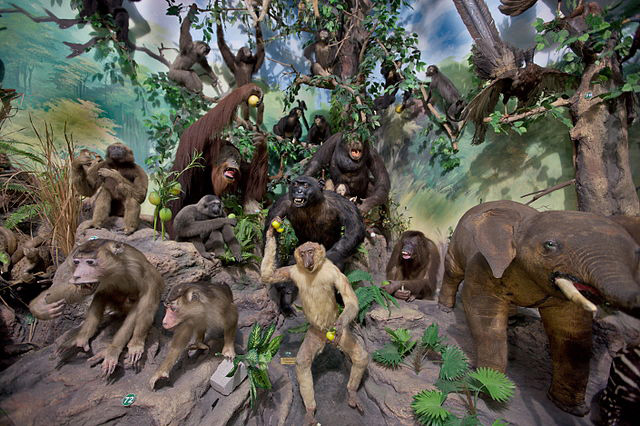 Within easy reach of Medan is a grand array of stunning tourist destinations, located in some of the most beautiful natural settings on earth.
Lake Toba
The largest volcanic lake in the world, covering an immense 1707 sq km, Lake Toba is a magical place of myth and beauty. Located high up in the peaks of Sumatra, the ocean blue lake is a gem of natural, unspoilt beauty. The lake can be reached from the town of Parapat, about a 5 hour drive or bus journey from Medan. However, the best way to enjoy Lake Toba's scenic beauty would be from Taman Simalem Resort. This resort sits at 1,500 metres above sea level and features a 9-hole golf course, flower and fruit garden, and twin waterfalls.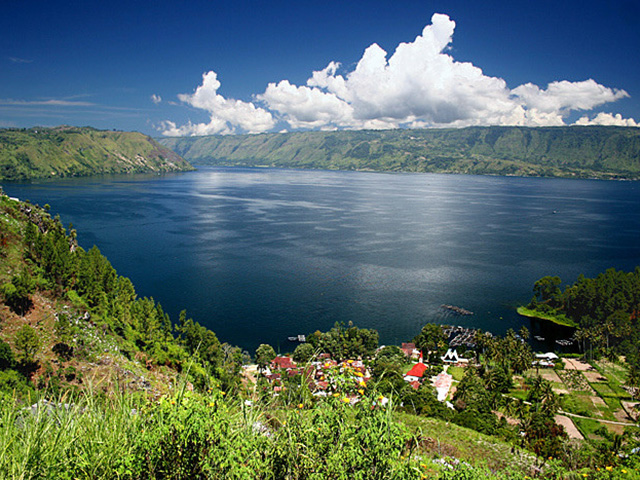 Samosir Island
Samosir island is a small island in the middle of Lake Toba that was formed by a massive volcanic eruption between 30,000 and 75,000 years ago. You can catch a ferry to the island from Parapat. It is home to the Batak people, a culture of incredible history and spirituality. With traditional Batak villages along the shore line, you can wander here and buy traditional handicrafts and souvenirs from the local people.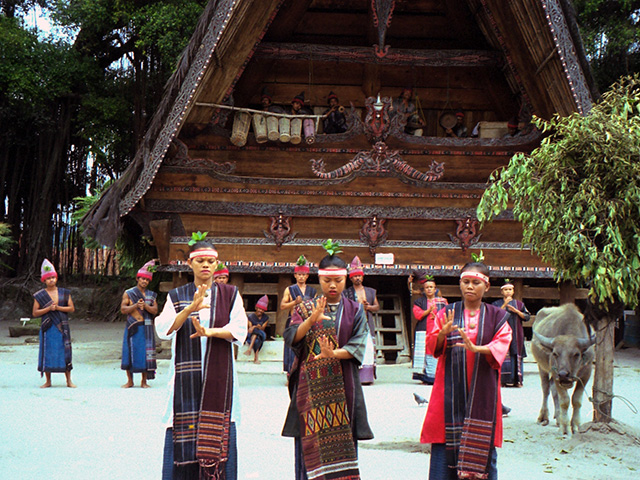 Sipiso-piso Waterfall
At the northern end of Lake Toba you will find the incredible waterfall of Sipiso –Piso. 120 m high, the waterfall flows into Lake Toba. You can see incredible view s from the top and if you are very lucky you may catch a glimpse of rainbow through the water at the bottom.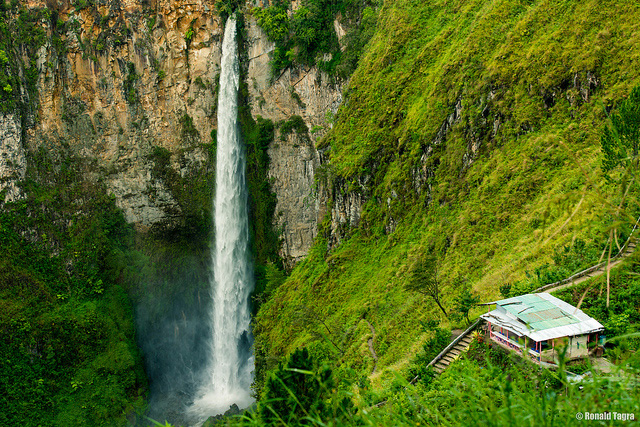 Mount Sibayak
About 2 hours from Medan, in Berastagi, you will find the volcanic mountain of Sibayak. One of the country's most easy to access volcanoes, Mount Sibayak can be trekked alone or with a guide through the jungle.  The trek will take about 5 hours and the views from the top of the rumbling volcano as you look down will make it worth your while. It's a truly awe inspiring experience.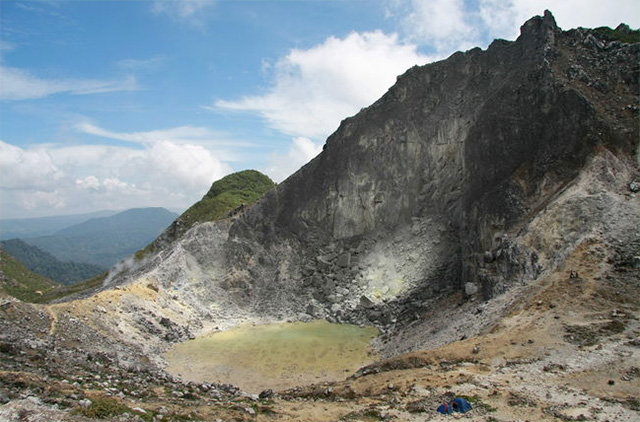 Bukit Lawang
A rural jungle village 96 km from Medan, Bukit Lawang is the place to go for Sumatran Orangutan spotting and eco-tourism. The tropical forest surrounding the village belong to the Gunung Leuser National Park and are home to an immense range of animal and plant species. It is a wonderful place for hiking, river swimming and relaxing in hammocks at one of the various local guesthouses or cafes.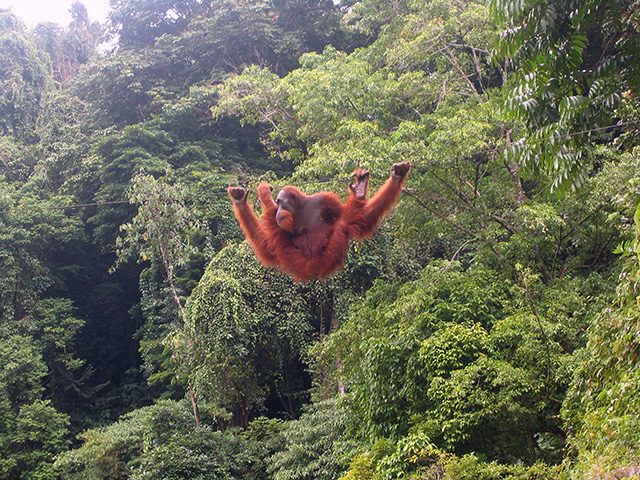 Tangkahan
If you'd like to catch more than a glimpse of an elephant during your trip, visit the village of Tangkahan, located near two rivers on the borders of the Gunung Leuser National Park. With eco-tourism activities like trekking through the jungle and Elephant trekking, it's a nature lovers paradise.  With hot springs and waterfalls also close by, you can easily get some relaxing down time here enjoying the beautiful surroundings. The village is a 4- 5 hour bus ride from Medan.