Ho Chi Minh City in Vietnam, South East Asia is often referred to as its former name of Saigon. The city was originally an important seaport for traders prior to the 17th century when Saigon was capital of the French colony Cochinchina. It's a fascinating city to visit for its bustling street markets, epic architecture – a combination of French Colonial, Vietnamese and contemporary modern day structures and an intriguing military history. If Vietnam and Ho Chi Minh City are on your itinerary of places to visit in the near future, here are 10 suggestions of things to do and see during your stay.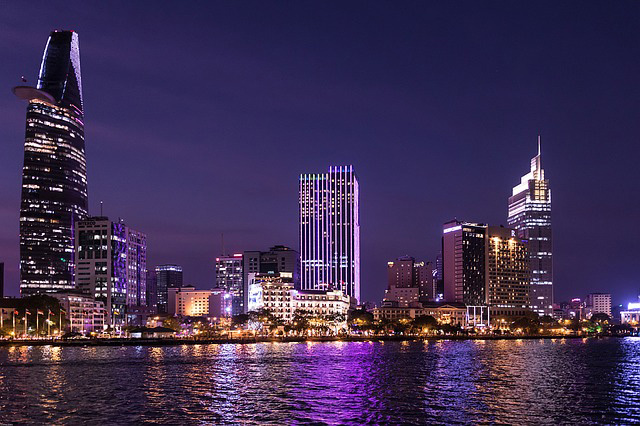 Things to Do in Ho Chi Minh #1: Visit Cu Chi Tunnels
For the military history lover, one of the most popular attractions to see just outside Ho Chi Minh City are the Cu Chi Tunnels. The Cu Chi Tunnels allow visitors to delve into a deep underground world of guerrilla warfare and gain insight into the life and hardship of local people during the wartime era. The tunnels were of strategic importance due to their location near the edge of the Ho Chi Minh Trail and there were originally over 200 kilometers of tunnels which were used to house schools, medical quarters, sleeping areas and meeting rooms. Around 75 kilometers of the Cu Chi tunnels have been preserved by the Vietnamese government and can still be explored today. Visitors can tour the labyrinth of tunnels, walk past huge bomb craters and even sample some of the regional cuisine which local fighters survived on. This day trip provides an interesting and moving insight into the military history of the country and offers the visitor a greater understanding into the impact of modern day warfare.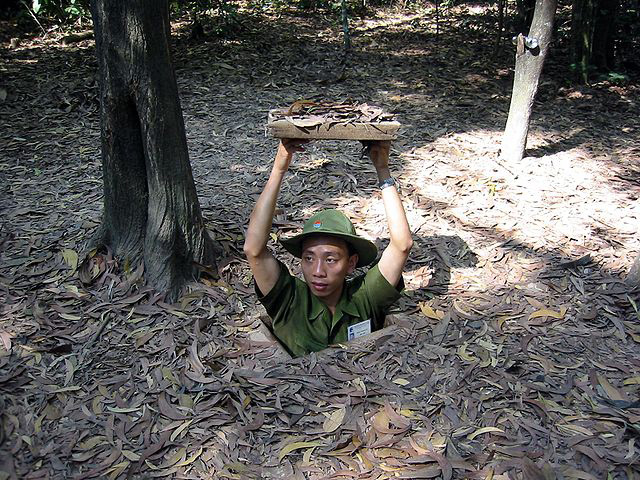 Things to Do in Ho Chi Minh #2: Visit War Remnants Museum
If you prefer to stay closer to the city centre but still wish to discover more about the military history of Vietnam, then the War Remnants museum should be your first port of call. The museum tells the story of US military action during the heavily publicized Vietnam war, but this time you hear the story from the side of the Vietnamese people. A variety of displays contain artillery and infantry weapons, the prisons of Phu Quoc and Con Son Islands and armoured vehicles. The War Remnants Museum is not for the faint hearted, it is a brutal reminder of the atrocities which took place in Vietnam, so if you do decide to come be prepared to be moved.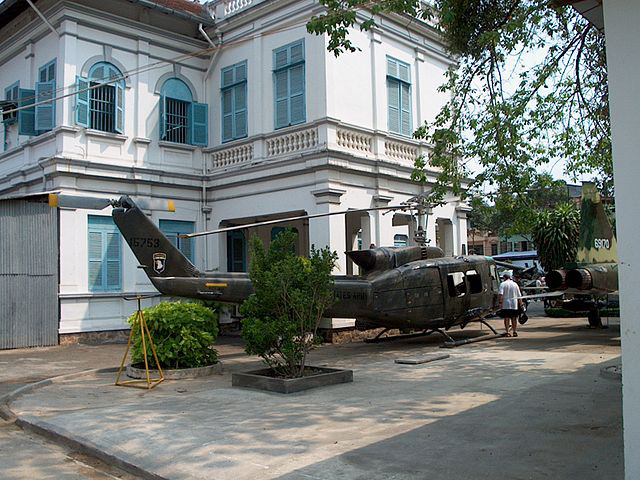 Things to Do in Ho Chi Minh #3: Visit Saigon Notre-Dame Cathedral Basilica
This cathedral was named after the Notre-Dame Cathedral in Paris, the façade is very similar, built in a unique Romanesque style rarely seen in South East Asia. Originally constructed to provide a religious sanctuary for French Colonists, the intricately designed interior is definitely worth a closer look. Later on in the construction two bell towers were added to the Cathedral containing six bronze bells with a combined weight of 28.85 metric tonnes which ring out each day. The cathedral showcases the French Colonial side to Ho Chi Minh city, it's easy to find and close to many of the cities popular attractions.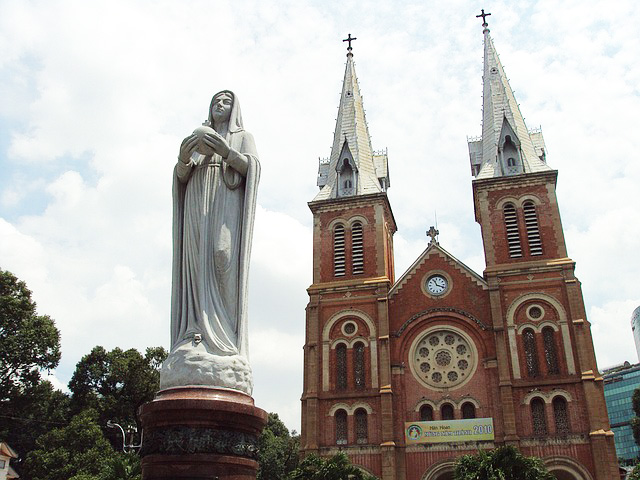 Things to Do in Ho Chi Minh #4: Explore Ben Thanh Market
The market scene in Ho Chi Minh City began in the 17th century when street vendors would converge on the banks of the Saigon River to trade their wares. Today Ben Thanh Market is located in one of the earliest surviving structures in the city, this vibrant, eclectic market is perfect for tourists seeking souvenirs, local artisan crafts and vibrantly colored textiles.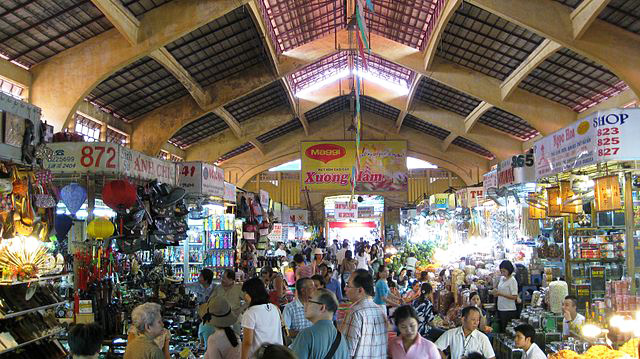 Things to Do in Ho Chi Minh #5: Visit Reunification Palace
Visit the Reunification Palace, the famous landmark often seen in postcards. This beautifully preserved palace was the former residence of the President of Vietnam. The palace is a five-storey building with the basement housing a warren of tunnels, a war room and telecommunications centre. The ground and second floor hosts meeting rooms and reception areas, while the third floor features a card playing room. If you are interested in local and national history, this place is worth a visit.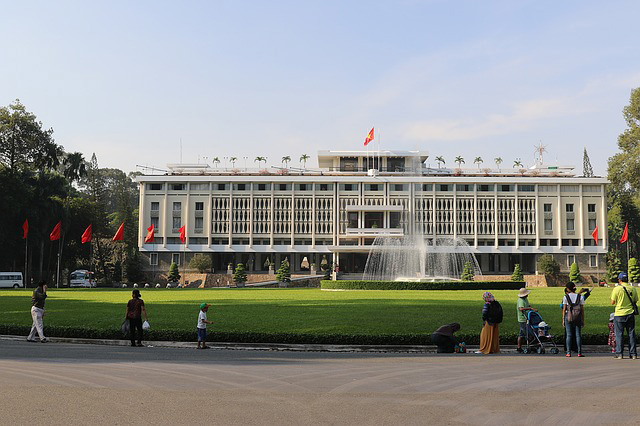 Things to Do in Ho Chi Minh #6: Tour Saigon Zoo and Botanical Gardens
Once you have explored the Museum of Vietnamese History, take a short stroll to Saigon Zoo and Botanical Gardens. This is the eighth oldest zoo in the world, with various conservation areas dedicated to both animals and plants. You can also explore the pretty and fragrant orchid garden, and the fun packed amusement park will entertain all members of the family. This zoo is home to an incredible array of species including white Bengal Tigers, Indochinese Leopards and Tigers, gibbons, elephants and turtles.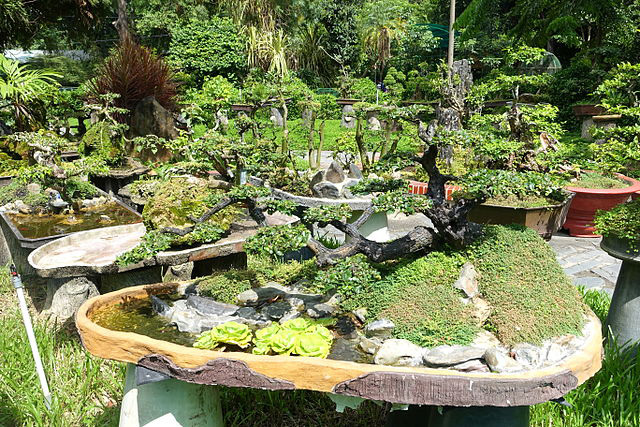 Things to Do in Ho Chi Minh #7: Visit Gia Long Palace (Ho Chi Minh City Museum)
If you still haven't had your fill of Vietnamese history or museums, this charming historic palace and gardens will fill that void. The building itself is architecturally impressive, dotted around the gardens are various pieces of military hardware which you can explore up close. Venture inside to uncover the city's story through a variety of ceramics, old maps and archaeological artefacts.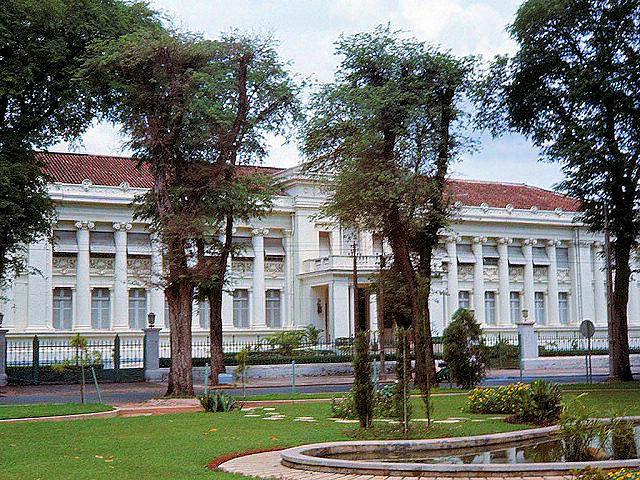 Things to Do in Ho Chi Minh #8: Check out Pham Ngu Lao Street
Nestled in District 1, Pham Ngu Lao Street is the backpackers haven. Here you will find a multitude of cheap western style restaurants, quirky cafes and bars. For intrepid travellers the accommodation is affordable and most importantly, the area is really close to all of the main city attractions of Ho Chi Minh City. You can sample local street food, use the internet cafes and shop for souvenirs at the local arts and crafts stalls. There is always something interesting going on in this lively, bustling and friendly area of the city.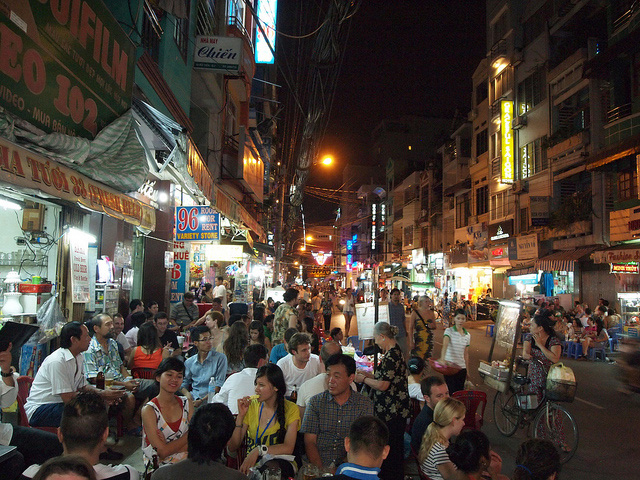 Things to Do in Ho Chi Minh #9: Watch a show at the Ho Chi Minh Municipal Theater
Also known as the Saigon Opera House, this 800 seat building was built in 1897 by Eugene Ferret, a French architect who designed the theatre in a quaint French Colonial style. The building was previously used as the Lower House Assembly government building until 1975 when it was restored back to its former theatrical glory. The opera house was modelled on the unique structure of the Opera Garnier in Paris, as you stroll around you can see the similarities between them. Today visitors and locals can enjoy fabulous opera performances, plays and theatre productions or simply take a tour inside to see the exquisite interior.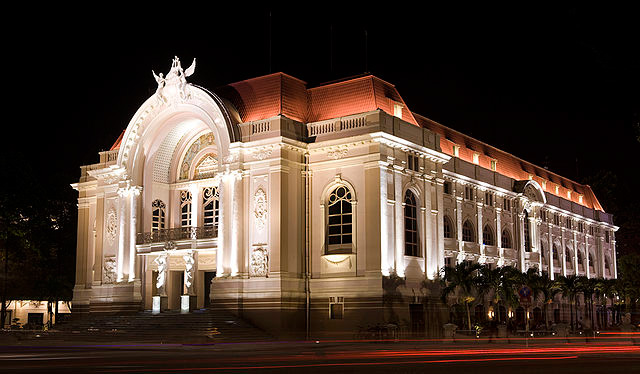 Things to Do in Ho Chi Minh #10: Go on Boat Tours
No visit to Ho Chi Minh City would be complete without taking a scenic boat tour. Some of the most popular tours include travelling to the heart of the Mekong Delta on a long tail boat. This tour allows visitors to explore the jungle shaded waterways and see fruit farms and fishing villages which showcase the thriving river culture in all its glory. Alternatively, if you are travelling with a loved one and are feeling romantic in Saigon then perhaps one of the sunset river cruises could be for you. See the cityscape as the sun goes down, the buildings illuminate and the stillness and calm of the water wash over you as you enjoy a glass of champagne. This could be the perfect finale to your Ho Chi Minh City trip.